Gain insight into a thematic seminar: Embrace Inclusion and Diversity in your Erasmus+ Projects!
19.12.2022 - Everyone - Story sharing
We had the chance to visit a thematic seminar TCA in Zagreb and ask participants what they're taking home from these 3 days of intense learning, and sharing experiences.
-
ETRC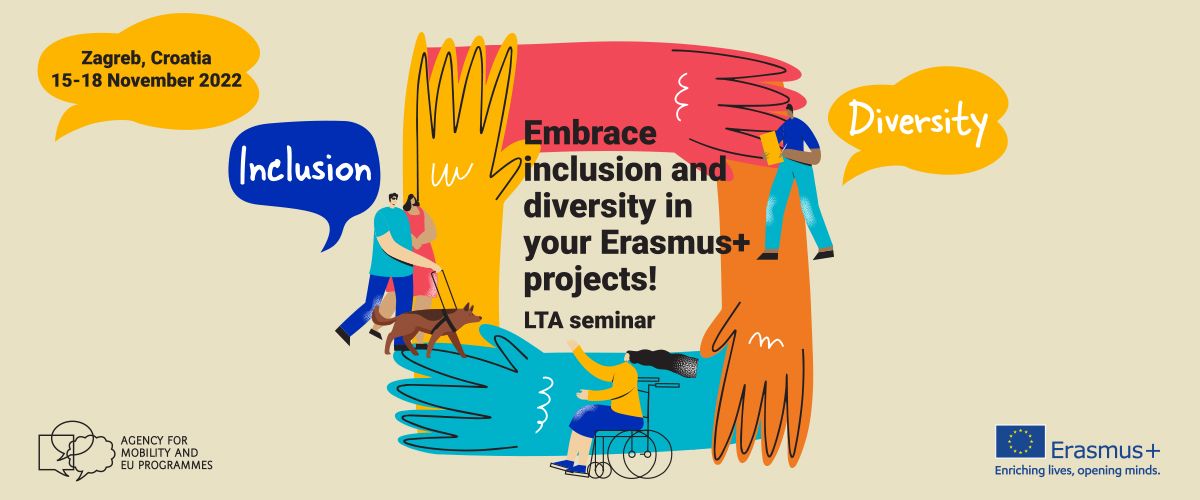 One of the new SALTO Resource Centres, the SALTO Inclusion and Diversity's parent organisation, the Croatian National Agency (AMPEU) hosted the first event: Embrace Inclusion and Diversity in your Erasmus+ Projects! under the umbrella of the Long-Term Activity: Inclusion and diversity (making Erasmus+ projects more inclusive).
As Tea Režek, Head of Department at AMPEU, and main organiser behind the event summarises:
"We had participants from 16 countries! The LTA is aiming to increase the capacities of beneficiaries, institutions that already implement projects to include inclusion and diversity aspects more in their existing projects or when they're planning new ones, including this segment from the beginning."
The Long-Term Activity will host several more events in the upcoming years, all across Europe.
So, if you're a project holder, or planning to apply soon, look for these opportunities!


But what happens in an event like this? And how it's going to improve your projects?
"I think this whole seminar was very useful, because we've learned a lot in various ways, we had lectures, networking dinners, workshops, and also a study visit to see local institutions" – says Mirka Savolainen, Principal of Puulan Seutuopisto in Finland.
The 
theoretical input
, in the form of lectures 
from keynote speakers Judith Hollenweger Haskell
 (Zurich University of Teacher Education, Switzerland) and 
Kevin Kester
 (Seoul National University, South  Korea) 
provided a solid base
 for participants 
to interpret
 the abstract notions of 
inclusion and diversity
 into core principles and questions. 
What do project holders need to ask themselves when working with (with, not for!) people with fewer opportunities?
 From the planning phase, through budgeting until the sustainability of project results and outcomes, and beyond.
The rest of the seminar was dedicated to finding the answers to these questions and translating principles to the participants' own Erasmus projects. Through facilitated workshops, good practices, and challenges shared by project coordinators of I&D projects they have gathered their answers to the "whys, whats, wheres, with/to whos, and hows".
"We have a lot of similarities, but the approach is different sometimes, and it gives you fresh thinking and some new tools to put in your own activities, in your school." – highlights Petra Katana, project coordinator at DANTE Adult Education Institution in Croatia.
These events are also excellent networking opportunities: "I feel like I'm bringing with me home a very relevant experience and very good chances to develop meaningful partnerships" – says Tudor Sălăgean, Director of the Museum of Ethnography in Romania, who's main goal, to find partners for upcoming projects was "quite successful" as he put it.
The third day ended with study visits to local institutions in all 4 sectors (School Education, Higher Education, VET and Adult Education). One could really feel how inspired and motivated participants were in the wrap-up session where they gathered what they have learned in the past 3 days.
The discussions about the future were proof that this is just the beginning. The work starts when participants return to their institutions and projects and start implementing what they have learned.

Remember, there are more events to be expected in the following years if you would also like to gain experience with Training and Cooperation Activities and improve your projects.
The opportunities will be available in the SALTO E&T Platform's Events menu.